Contact Us
GranDesign, LLC (Formerly Gallatin Publishing Company)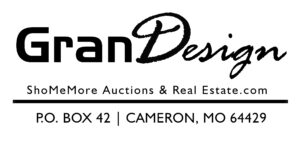 402 East Evergreen, PO Box 42, Cameron, MO 64429
Ph: 660.663.2154
Open Weekdays 8 a.m. to 5 p.m.
At GranDesign, Home of ShoMeMoreRealEstate.com and ShoMeMoreAuctions.com, our roots in North Missouri run deep. We are a locally owned business with extensive experience in developing and hosting regional websites. We launched our flagship sites in 2006 and today we continue to provide effective marketing strategies for Auctioneers and Real Estate Professionals in North Missouri through our online products. As part of our commitment to staying ahead of the curve, we are now offering professional video services for social media use. Trust us to help you achieve your online marketing goals.
ShoMeMoreAuctions.com
Promoting all types of auctions located throughout North Missouri and South Iowa.
Real Estate – Antiques – Farm Machinery – Estates – Commercial – Land – Livestock – Personal Property
ShoMeMoreRealEstate.com
Promoting all types of real estate located throughout North Missouri and South Iowa.
Real Estate – Residential – Farm & Ranches – Recreational – Commercial – Land – Hunting – Rural Homes – Acreages – Lake – Multi-family – Build Sites
GranDesign, LLC websites consistently ranking first or on the first page of organic browser search results for many of the most popular text search strings relating to auctions and real estate. Our reputation is built on service, knowing respect in building business relationships must be continuously earned.
Questions? Please contact:
Jill Steward,
Owner/Operator
[email protected]
660.663.2154